We are committed to your final goal, to actually getting this site off your list of "things to do". Whether it's a fire smart program, phase II or reclamation certificate we can help you get there. Our field technicians are trained and familiar with; Alberta sampling protocols and policies, Alberta Environmental laws, rules and regulations, ground disturbance, waste management, OH&S codes, Alberta certified chainsaw and logging and municipal invasive plant listings.
Our talented and flexible team can assist in putting together the big picture.
Never out of reach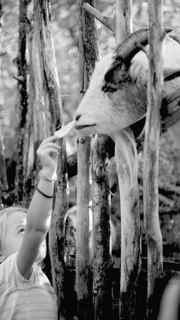 Organic Vegetation Management
We provide the best in Organic Weed Control, enough said.
Fire Smart & Brush Removal
Utilizing goats and chainsaws to remove hazardous brush, dead-fall and leaf litter. Where goats have been used for firebreaks flames were reduced from 15 feet to 3. Lives and homes have been saved thanks to goats. Perfect for areas like Springbank, Kananaskis, Wiaprous, where perscribed burns can't be used and prior to timber harvesting or site clearing.
Remote Sensing and Invasive Plant Distribution Mapping
We offer Remote Sensing Images and Maps which highlight and identify plant distribution and coverage. These maps compare weed coverage throughout the season and years and from on and off-site. The imagery maps are useful in reports to demonstrate the reduction of weeds and off-site comparisons for reclamation certificates.
Environmental Sampling and Monitoring
Our trained Field Technicians have all the know how to obtain representative soil, water and plant samples which will deliver the highest quality and accuracy to your projects. We can conduct a Phase II Investigation or oversee a Phase III Remediation collecting representative samples to correlate and confirm the extent or removal of impacts. All samples will be handled with care to avoid cross contamination and disturbances, preserved properly and expedited to the lab in a timely manner.
Environmental Site Assessments & Phase 1
Phase 1 and Environmental Site Assessments are usually the jumping off points to developing a sites long term Management Plan. Our Experienced staff will complete thorough investigations, research and detailed assessments of multiple aspects of your site so you may develop management plans with all the pertinent knowledge.
Phase 2 & 3 Investigations & Remediation
Our trained Field Technicians have supervised Phase II, Phase III and re-contouring ground disturbances. Planning and executing the projects to give as much insight into the next Phase while remaining on budget and on time. Remaining efficient in our work plans by reducing redundancies between phases, trouble shooting for potential issues and managing the trades so there is no downtime between deliverables. Our staff will relay progress to the you and ensure thorough documentation of job and task completion giving you ease of mind.
Good Goat Works…Goats Giving Baaaaack

We believe in giving back to the communities we work in. We buy local and ethically.
We also strive to reduce our imprint. We recycle as often as possible.and live in a 128sq foot tiny house.
We are Zero waste agriculture and off-grid homestead.
We bring a ambassador goat into the Edmonton SURF program for adults with special needs.
We support local schools and come in free of charge for goat works chats.
We are working to support Syrian Refugees.
We are fundraising with Ronald McDonald house to off-set Organic Weed Control costs to families with sick persons.
We are offering job training to inmates.
We champion for animal welfare and Canadians Food Sovereignty with accountable Traceability.
We host vegan and vegetarian meal days with all of our staff and volunteers.
If you would like to donate to any of our Good Goat Works initiatives feel free to reach out to us. We will happily let you name a goat.